Primeras pruebas para la llegada de la Alta Velocidad a Murcia
La noche del 12 al 13 de mayo llegó por primera vez a la estación de Murcia el tren laboratorio (BT), realizando pruebas de geometría de la catenaria desde Beniel.
Una vez en servicio permitirá la conexión directa de Murcia con Madrid y con el resto de la red de alta velocidad. Además, forma parte del Corredor Mediterráneo​​​​​.​​​​​​​
​​​​​​​Más información en
Nota de Prensa
Adif Alta Velocidad (Adif High Speed) in figures
of Green Bonds (2017, 2018, 2019 and 2020)
Trains in circulation every year (2021)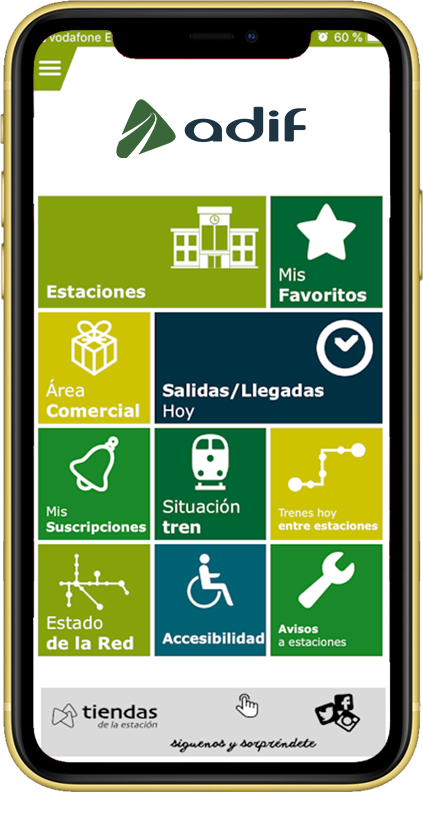 Adif in your mobile phone
Having the Adif app on your mobile phone allows you to check the situation of passenger trains in real time.
In addition, you can get general information, as well as information on services and the commercial, cultural and leisure offer available in passenger stations.
You can obtain general information on addresses, GPS coordinates, opening hours, Adif contact numbers, a station's location in the city, maps, parking lots, etc.
*Para terminales Huawei con sistema operativo Android*