León - Asturias Line
The Pajares tunnels
Because of the geological and morphological complications to be overcome in the mountain massif, the Pajares tunnels are a great engineering challenge that have required the use of complex and specific building techniques.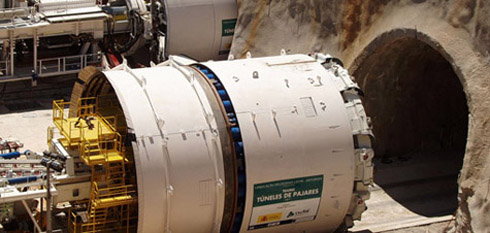 The tunnels were made with Tunnel Boring Machines (TBMs). Five TBMs in total were used for the Pajares tunnels.
Safety is the fundamental and main advantage offered by this type of machine, since tunnel excavation and propping take place inside the machine's protective shield.

To maintain the highest level of safety, the tunnels have interconnecting galleries every 400 metres, which facilitate maintenance tasks and evacuation, if necessary.
There is a preferred stopping point halfway along the 25 km, prepared for evacuations in case of any emergencies. If a train suffers an incident (breakdown, supply fault, etc.) it can stop so that passengers can be transferred to another train or be evacuated to the exterior through the Buiza access gallery.
Basic tunnel data
Highlighted paragraph
2 single-track tunnels
Distance: 25 km
Continuous longitudinal gradient of 16.8 thousandths, downward towards Asturias
Circular section: 8.5 m diameter
Surface area: 52 m2
Connecting galleries: every 400 m.
Distance between the axes of both passages: 50 metres in the interior of the massif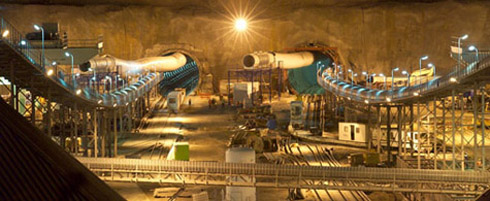 You may also be interested in