León - Asturias Line
The Pajares New Line

The Pajares New Line is part of the León–Asturias Line, belonging to the High-Speed North-Northwest Corridor. It is specifically located in the section between La Robla (León) and Pola de Lena (Asturias), in the central hub of this line, between the León - La Robla and Pola de Lena - Oviedo sections.
It is 49.7 km long and, in addition to the construction of two main Pajares tunnels, between Pola de Gordón (León) and Telledo (Asturias), includes the outer stretches in the direction of La Robla and Pola de Lena.
The Pajares Tunnels, approximately 25 km in length, will be the sixth longest in Europe and the seventh longest in the world. Another important tunnel to be built is Pontones, which will be 6 km long.
The construction of these tunnels allows the crossing of the natural barrier that the Puerto de Pajares massif has historically represented, while ensuring a high-speed connection between Madrid, Castile-León and Asturias.
The distance between Asturias and Castile-León will be shortened by 33 km in relation to the current railway route, with a new route designed with high-speed parameters, where trains will be able to reach speeds of over 250 km/h.
It will take approximately 15 minutes to travel along the new line.
The project includes the links with the current León-Gijón conventional gauge line, near La Robla and in Pola de Lena station.
Track gauge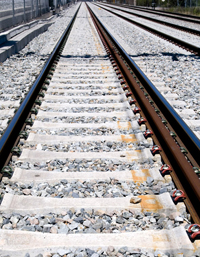 The Pajares New Line will be suitable for passenger and freight trains. In the first phase, the tracks on the New Line will be installed in Iberian gauge on multi-service sleepers in the West tunnel and mixed width (triple wire) in the East tunnel.
Operating initially in Iberian gauge will avoid the Pajares New Line being isolated from the rest of the railway infrastructures currently in service.
Installing this type of sleeper – suitable for both international and Iberian gauge – will allow for a quick and simple adaptation to switch the gauge, once works to connect the New Line with the rest of the high-speed network have been completed.
Thus, not only the public, but also Asturian companies will benefit from the advantages offered by the new railway access to Asturias.
Thanks to this solution, freight trains will also be able to use the new infrastructure, thus avoiding the slow winding route of the current conventional network.Railway traffic from the Asturian ports of Gijón and Avilés bound for the central plateau will be boosted thanks to this measure.
You may also be interested in