Madrid - Seville Line
Stations on the line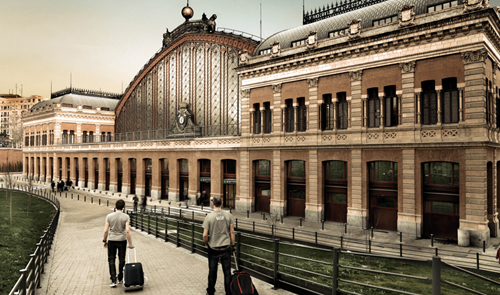 The advent of high-speed trains in Spain brought with it great changes to railway stations. Historical stations, such as the emblematic Puerta de Atocha station in Madrid, were subjected to comprehensive remodelling, while elsewhere it was decided to build new, more functional terminals, like the stations of Ciudad Real, Puertollano, Córdoba and Sevilla Santa Justa.
Madrid Puerta de Atocha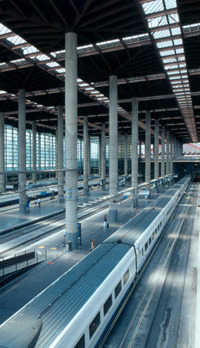 Puerta de Atocha is one of Spain's most famous stations, being one of the best examples of nineteenth-century railway architecture and combining, as few spaces do, tradition and modernity, ornamentation and functionality. Puerta de Atocha receives millions of travellers and users every year, as well as thousands of visitors drawn by it shops and eating places and, above all, by its incomparable tropical garden, with more than 10,000 plant species in an area of over 4,000 m2 under a metal canopy.
The historic building was built between 1888 and 1892 by Alberto de Palacio, a disciple of Eiffel, who designed a majestic iron and glass canopy roof that is over 150 metres long, 49 metres wide and 27 metres high. Atocha station underwent a major transformation between 1985 and 1992, under the direction of Rafael Moneo, to welcome the Madrid - Seville high-speed line.The vast, luminous, hypostyle hall was created in this period to receive the first high-speed trains (AVE).
Moneo was also the architect in charge of the last and spectacular expansion of this station, on the occasion of the commissioning of the Madrid - Valencia high-speed line in 2010. After these renovations, Puerta de Atocha has 15 high-speed tracks, 8 platforms and a new terminal for arrivals.
Ciudad Real
Ciudad Real station was inaugurated in 1992, with the commissioning of the Madrid - Seville high-speed line, replacing the historic aircraft maintenance terminal built in 1880. With its three platforms and seven commercial routes (4 in UIC gauge and 3 in Iberian gauge) it provides high-speed and conventional network services.
The new station, in the east of the city, is a modern three-storey structure with a triangular body and two side annexes. The station's highlight is its grand main hall, covered by a pyramidal skylight, which houses user services and various shops and eating places.
Puertollano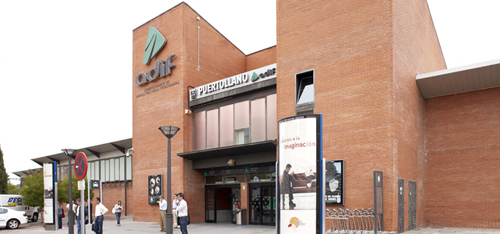 Puertollano station, also a new construction, offers high-speed, middle and long distance services, for which it has two platforms and 7 commercial tracks (4 with international gauge and 3 with Iberian gauge). The building, opened in 1992, has a central pavilion, supported by two large brick pillars, and several side annexes.
Córdoba

Córdoba Central station stands in Plaza de las Tres Culturas square. Opened in 1994, it is a modern station in which spaces and services have been adapted to user demands.
The modern building, made of concrete and glass, has a large hypostyle hall with 5 platforms and 8 tracks (4 high-speedñññ and 4 conventional network).As well as the usual traveller services (information, ticket sales and customer service), the station offers a wide and varied range of shopping under the Station Shops brand.
Sevilla Santa Justa
Seville's train stations are associated with major international exhibitions. In this tradition, the opening of the new Sevilla Santa Justa station, upon the advent of high-speed trains, coincided with the Seville Expo of 1992; while the old station's Neo-Mudéjar style building in Plaza de Armas square, known as 'Córdoba Station', was built in 1889 to house the Seville Pavilion during the Ibero-American Exposition of 1929.
Sevilla Santa Justa was designed by Antonio Cruz Villalón and Antonio Ortiz García. With an area of 12,000 m2, it stands next to the main northern access road to the city.
Santa Justa stands out for its size and great functionality, allowing for road traffic transfers and operations to be made with great speed and convenience.Inside, travellers find three clearly defined spaces:perpendicular to the set of tracks, a high-ceilinged main hall, full of light, with an area of 3,000 m2 housing ticket windows, cafeterias and shops; ramps down to the platforms; and lastly, the great dome covering the platforms, subdivided into three distinctive metal arches, spiralling towards the light. The area linking the main hall to the platforms is serviced by lifts and mechanical ramps.There is also a parking lot for 800 vehicles.
It has a set of thirteen tracks – six with international (UIC) gauge and seven with Iberian gauge – and seven platforms.They are all covered by an original design of semicircular metal vaults.Sevilla Santa Justa also offers a wide range of shopping and leisure facilities under the Station Shops brand.