Madrid - Valladolid Line
Noteworthy structures

The unique stations and works of the Madrid - Segovia - Valladolid high-speed line are detailed here below.
Segovia-Guiomar Station

It is located within the municipality of Segovia, in the vicinity of the SG-20 city road and the AP-61 motorway, which guarantees optimal access conditions.
It has an approximate floor area of 5,100 m2. The building is located at a higher level than the tracks, taking advantage of the topography of the land.
Regarding the design, the treatment of light stands out. In this regard, the skylights of the roof filter and harmonize the natural light inside.
San Pedro Tunnels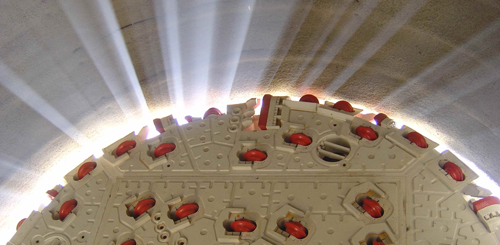 These tunnels are the third longest in Spain, only surpassed by the tunnels of Pajares and Guadarrama and longer than those built in Perthus and Abdalajís.
They consist of two parallel tubes, each one for a single track of 8,930 meters in length.
Arroyo del Valle Viaduct

It is the main viaduct of the line and constitutes the longest continuous deck viaduct in Europe.
The uniqueness of the viaduct resides fundamentally in its linear and stylized design –which favors its integration into the environment–, in the applied construction technique –new in Spain–, and in the exceptional measures of respect for the environment developed in its construction.
It is located in a magnificient scenery between Soto del Real and Miraflores de la Sierra.
It has a length of 1,755 m distributed in 27 spans of 66 m and the maximum height of the piers is 80 m.
The central span of the Arroyo del Valle viaduct is 132m, with a spire of 49 m, and a total arch weight of 2,500 tons.
Guadarrama Tunnel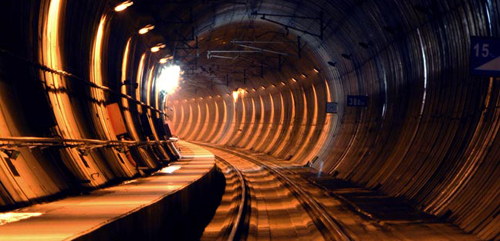 It is the fourth longest tunnel in Europe and the fifth in the world, each measuring 28.4 km in length.

The route of the tunnels runs between the municipality of Miraflores de la Sierra (Madrid) and the surroundings of the Segovian capital.

The drilling works ended in 2005 and 4,000 people have worked together to build them.