What do we do?
Innovation drives Adif
Innovation and research have been aspects of the utmost importance to Adif from the outset of its activity. Our vision of innovation is focused on the user to meet the needs of society and be a driving force in the industrial sector that stimulates the participation of companies, startups, universities and technology centres, guiding them to develop technological solutions for our challenges.
Adif also acts as a promoter of R&D+i, stimulating new developments that can add value to the railway. Always looking for new ways to innovate more effectively and efficiently, we have gone from collaborative innovation to open innovation in search of possible solutions to our needs. Open innovation is based on detecting needs and intrapreneurship, technological surveillance and the collaboration of the innovation ecosystem, together with the financial support of Adif and the co-financing of national and European innovation promotion programmes, systematically seeking continuous improvement.
We have also adopted new ways of interacting with the agents of the innovative environment so that communication with them is fluid, two-way and productive. One that we have already experienced with remarkable success is preliminary consultation to the market, which makes it possible to formulate a challenge and receive proposals with a view to a possible tender.
Adif's innovative effort is manifested in the number and nature of the projects we undertake, in the financial volume of our investments and in the transfer to exploitation of the output of the innovation. Since 2006, we have initiated more than 150 R+D+i projects, with a mobilized global budget close to 62 million euros.
102 industrial property records
37 patents:
19 national,
8 European
10 international

6 national utility models

57 brands:
35 national
7 EU
15 international

2 industrial designs
144 intellectual property records
7 audiovisual

18 software applications

56 manuals

63 technical specifications
Adif has managed to implement seven major innovations in Spain and abroad that today form part of railway operations.
One of the challenges currently posed refers to the support that innovation can provide in the process of deregulating the sector. For this, the stations must evolve to a greater extent, introducing new technologies to optimise the multi-operator model. In the operation, expectations are linked to increased performance in infrastructure, security, energy efficiency, cost reduction or increased capacity. It is about offering the benefits and conditions that users and operators demand, with the levels of safety, service and sustainability necessary for the railway to continue to be an efficient means of transport, today and in the future.

To promote these research, development and innovation activities, Adif sometimes uses different financing instruments and R&D+I financial assistance that provide economic benefits or an increase in Adif's assets earmarked for innovative activity.
The financial options for these instruments are diverse, taking the forms of subsidies or partially reimbursable financial assistance, including the Innovative Public Procurement (IPP) option, both in innovative technology (IPPT) and in pre-commercial modality (PPP).The selection between the different possibilities responds to the project's risk levels and the technological maturity to be achieved by its results, as well as the total volume to be financed for each action, with respect to the open calls.
In national aid, priority is given, among others, to the selection of those coordinated or channelled through the CDTI (Centre for Industrial Technological Development), a Public Business Entity, dependent on the Ministry of Science and Innovation, which promotes innovation and technological development of Spanish companies.
In the case of international aid, there are more diverse options.Although the CDTI has a certain role in channelling the ERDF (European Regional Development Fund) financial assistance for certain lines of innovation, the different calls for each European R&D+I framework programme are also taken into account, in recent years in the figure of Horizon Europe and its associated partnerships, such as Shift2Rail.For innovation linked to railway interoperability there are also options to raise CEF funds (Connecting Europe Mechanism).
In addition, the following projects are also financed with ERDF funds from the European Union and the Ministry of Science, Innovation and Universities:

Innovation and Adif's 2030 strategy
Adif's 2030 Strategic Plan describes the four main pillars of the company's activity:safety, service, sustainability and results orientation, supported by communication, innovation and digital transformation as levers to achieve corporate objectives and face the challenges of a future in which the railway must have a leading role.
In this panorama, innovation defines challenges and proposes solutions based on concepts such as mobility as a service, smart infrastructures, smart mobility or digitalisation. The safety pillar brings together advanced solutions to reduce risks and raise standards throughout the General Interest Railway Network. The service pillar is a focal point for technologies linked to the development of the station of the future and the increase of freight transport by rail, with solutions as innovative and versatile as the variable-gauge axle for freight traffic. Sustainability is the axis around which projects related to energy efficiency and alternative energies applied to the railway are undertaken. Such projects are carried out in areas like electromobility, reversible substations and the use of hydrogen as traction energy.
The reference framework chosen by Adif to direct its R+D+I activity includes Spanish and European reference regulations:
Spanish Strategy for Sustainable Mobility (and the debate document for the 2030 Strategy for Safe - Sustainable - Connected Mobility); 2012-2024 Infrastructure, Transport and Housing Plan; Spanish Strategy for Science, Technology and Innovation; State Plan for Scientific and Technical Research and Innovation; Hydrogen Roadmap)
2020 Horizon Programme; 2021-2027 Horizon Europe bases; and 2011 White Paper on Transport (European Commission)
2050 Railway Roadmap (ERRAC)
Hydrogen Roadmap, of the Ministry for Ecological Transition and Demographic Challenge
Since 2006 Adif has completed more than one hundred R+D+I projects in different technical specialties.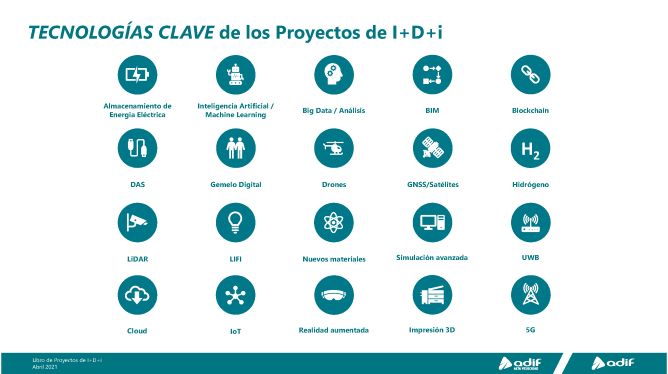 A summary can be downloaded from the following link: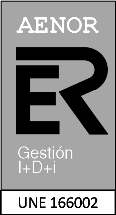 La Política de I+D+i de Adif fue aprobada el 12 de Septiembre de 2006 por el Comité de Dirección y en ella se recoge el objetivo de implantar un sistema de gestión de I+D+i conforme a la norma 166002. Este sistema de gestión se implantó en 2007 y fue auditado por AENOR en 2008.
Como resultado de este proceso, Adif obtuvo la certificación de su sistema de gestión de I+D+i según norma UNE 166002:2001 con el alcance: Sistema de gestión en investigación, desarrollo e innovación en tecnología ferroviaria.
Desde entonces, la gestión de la I+D+i en Adif ha superado todas las auditorías y mantiene la certificación.
En la Política de I+D+i Adif manifiesta sus intenciones y declara los principios en los que basa sus actividades, traza el marco de actuación y establece sus objetivos y metas en I+D+i.
More information on rail research, development and innovation