Conventional Network
Subtítulo sit amet consectetur adipiscing elit.
Construction, upgrade and maintenance of conventional network infrastructure and facilities
We have
A team of highly experienced and specialised employees.
State-of-the-art technology to meet the requirements of transport operators.
Machinery, vehicles and maintenance bases tailored to the railway network's productive needs across Spain.
Railway infrastructure is the base that supports the so-called "rail road". It underlies the tracks, as well as the signalling, electrification and telecommunications installations that make it possible for trains to circulate.
equivalent to a total length of 497 km.
with a length of 135.15 km.
Load tests performed annually
More about the infrastructure
Rolling stock operation is determined, inter alia, by the characteristics of the track's superstructure. Variables include layout (radius of curvature and slope), materials, quality, etc. Thus, one of our challenges is to provide the best infrastructure possible to our operators in a bid to boost their traffic capacity (e.g. in commuter) or commercial speed (to 200-220 km/h in medium and long distance). At the same time, we must ensure adequate levels of safety, quality, reliability and availability.
Actions to be highlighted
We have implemented new technologies in conventional lines in the last few years have transformed traditional signalling elements (e.g. interlocks, blocks, remote controls, track circuits, etc. The upgrade to rail transport has accelerated the advent of new products, such as electronic interlocks (electronic blocks), jointless track circuits or ATP-LZB automatic driving assistance systems.
.
More trains and the higher speeds have major implications for the approaches to, and frequency of, maintenance actions and repairs. With proper planning of activities and strict compliance with schedules, we can ensure the required levels of functionality and safety despite the reduction in time set aside for maintenance.
Electrification work is carried out at electricity substations and the overhead contact line. The overhead contact line, or"catenary", supplies electricity to the train.
All maintenance of these facilities is scheduled. Precise actions are coordinated with our territorial organisation, which also performs regular reviews in the high voltage line that feed our substations.
We have added to the features of our substations by putting in place a distributed control system and standardising new rectifiers, transformers, diodes and fuses.
Rail transport requires the exchange of a massive volume of data due to its myriad activities and operational and management complexity. Moreover, the dispersion of the various work centres requires differentiated telephony telecommunication services for management, data and operations, e.g. traffic control telephony, remote controls, signalling, public address system. These services and their different management and control systems are integrated into an exclusive telecommunications network.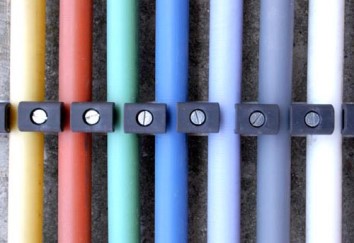 Kilometres of fibre optic network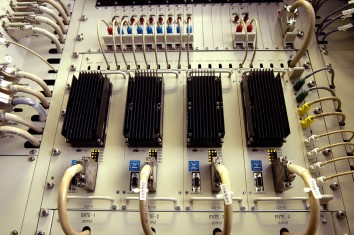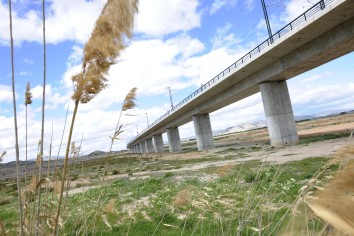 Production processes in infrastructure maintenance include all operational work and aim to optimise performance of the infrastructure and facilities so as to ensure an adequate level of safety and reliability.
The processes are divided up into three main categories relating to the technical specialties of infrastructure, tracks, signalling, electrification and telecommunications.
Quality and participation
Our conventional network maintenance is certified under the ISO 9001, 14001 and OHSAS 18001 standards. This puts us in a privileged position in which rail infrastructure development and maintenance. We are also one of the first organisations in Spain to have a certified Integrated Management System.
Staff in the Conventional line are heavily involved in the the Annual Quality Participation Contest, where they submit initiatives for operational and management improvements through Initiative and Improvement Groups (IIG) and Initiative and Improvement Teams (IIT).
Systematic production process organisation has given rise to a new profile of maintenance activities that increases facility availability and enhances inspection management, thereby reducing incidents.
Environmental management.
Our Environmental Management System is based on the ISO 14001: 2004 standard. We developed a series of general and specific procedures for the various technical specialties, identifying the environmental aspects affected in each activity.
We have 28 waste management points distributed across Spain that provide service to all our operational areas. These waste management points contribute effectively and rationally to our commitment as an environmentally friendly organisation.
We have also developed a series of Environmental Best Practices centred on reducing electricity and water consumption and managing waste.
Occupational health and safety
We obtained certification in accordance with the OHSAS 18001 standard in 2006 after assurance by AENOR that our occupational health and safety (OHS) management meets the requirements of that standard.
With this certification, considered the highest level of employee health and safety internationally, we easily exceed the minimum requirements of current legislation. Adif was the first European railway organisation to achieve certification according to this standard.
Crossings of roads or other communication routes with a railway is inherited from the historical construction development of these infrastructures.

The number of level crossings has decreased considerably from approximately 10,000 in mid-1970s, while improved safety measures have been put in place in those still providing service.