Adif and Adif AV are advancing in their strategic generational renewal plan with the launch of the Public Employment Offer (OEP) 2023, which will incorporate 1,451 professionals with 48 different profiles.

The call is aimed at technicians (7% of the total), technical profiles (15%) and operational staff; This last group represents 78% of the total places offered.

Applications can be submitted from July 10 until July 28 2023. The rules can be consulted at the following website links: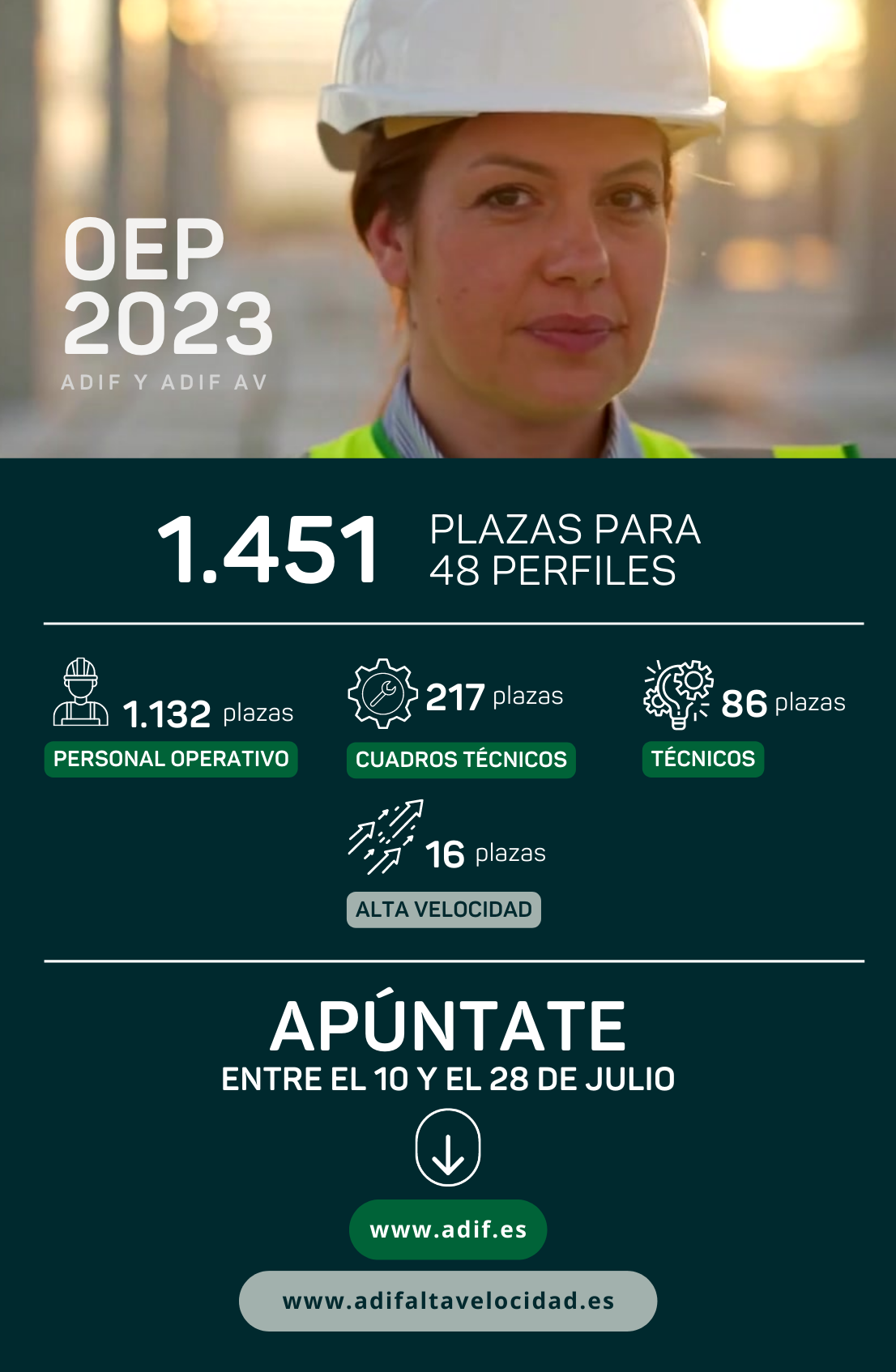 This call covers 48 different profiles in fields such as legal, finance, marketing, architecture, engineering, cybersecurity, security, systems and circulation, and also electrical installers, railway assistants, telecommunications officers, administrators and engine drivers, amongst others.
New job openings! Are you ready for action?
Various positions in Operations are open to talented people with qualifications equivalent to the Baccalaureate or with intermediate or higher level vocational training.
Field work
Entry level Rail Traffic Controller: You will assist in controlling the circulation of trains at stations or Command Posts that are essentially being replaced.

Railway assistant: You will be in charge of works, managing specialized track machinery and guarding level crossings.

Entry level operative You will provide support to travelers at stations and you will help with the lost and found service.

Electrical installer You will carry out the maintenance of electrical or telecommunications installations.

Entry level Telecommunications Officer: You will manage the circuits and installations of the technical systems.

Train driver: You will drive monitoring trains that are key in the maintenance of existing tracks and putting new tracks into operation.
Office-based work
Entry level draughtsman: You will work with industrial and railroad plans, works, topography and cartography.

Entry level Administrative Officer: You will provide administrative support with the help of IT tools.

Controller: You will act as a supervisor to pick up and correct behaviors that put people's and the company's safety at risk.

Entry level Programmer: You will develop and fine tune progams.
For the most dynamic with initiative
Technical staff positions for professionals with a degree or degree level in the following job profiles
Legal: Monitoring legal and regulatory issues, as well as administrative management tasks.
Management: Preparation of reports, analysis and studies of the areas we work in.
Records Management: Digitalization of documentary records and file and database management
Architecture and Construction: Preparation of the plans for a construction project, from the beginning until the end of the works.
Civil, Industrial and Telecommunications Engineering: You will optimize processes, by planning and monitoring the project.
Software Engineering: Design, creation and implementation of computer systems.
Great professionals for great projects
Positions for professional technicians with a degree or equivalent, and also with a Master's Degree.
Legal: You will work to ensure that the applicable regulations are followed in all the fields that we work in.
Economics: You will manage the treasury, operating and investment budgets and EU funding.
Management: You will manage human, financial and material resources to ensure that the objectives are met.
Communications: You will be managing the brand positioning of the company and promote its activities and professionals.
Occupational Medicine: You will manage the health and safety programs and services at work.
Marketing at stations: You will develop the commercial policy in passenger stations and will contribute to boosting new business lines.
Architecture: You will develop the basic and execution plans to transform our stations into strategic hubs for the mobility of the future.
Civil, Industrial, Telecommunications and Computer Engineering: You will make the transformation of capacity in our infrastructures around the country a reality.
Operational Systems: You will design and implement information systems, where our knowledge and experience are stored.
Cybersecurity You will protect us from cyber attacks; a real challenge in the digital context in which we work.
Operational Risks Management: There is no such thing as a risk-free business but your job will be to identify, evaluate and manage risks.
Construction: You will manage the development of railway infrastructures across different processes of construction.
Security officer: Large infrastructures need to be taken care of. You will develop protection plans for our assets.