European Corridors
Subtítulo sit amet consectetur adipiscing elit.
Regulation (EU) 913/2010 of the European Parliament and of the Council of 22 September, 2010, on a European rail network for competitive freight established a series of European Freight Corridors to make railways more competitive with other modes of transport.
These European freight corridors also form the backbone of the Trans-European Transport Networks defined in EU Regulations 1315/2013 of the European Parliament and of the Council of 11 December, 2013, on Union guidelines for the development of the Trans-European Transport Network, and 1316/2013 of the European Parliament and of the Council of 11 December 2013 establishing the Connecting Europe Facility.
In-service corridors running on the Adif network
Six of the nine rail corridors for freight transport have been operational since 11 November, 2013. Of these, two run through Spain and involve the participation of Adif. They are the Atlantic Corridor (formerly Rail Freight Corridor 4) and European Freight Corridor 6, part of the Atlantic and Mediterranean Corridors of the TEN-T Network.
Both Corridors have One Stop Shops located in Madrid for the Atlantic Corridor, and Milan (Italy) for Corridor 6, with the aim of attending to, processing and coordinating the requests of the international freight paths managed by the Corridors.
The Office of the Government Commissioner for the Mediterranean Corridor has made a map viewer available to the public with the aim of providing information on the development of the Corridor, identifying both its infrastructure and the socioeconomic structure of the regions it passes through.
Mediterranean Freight Corridor
Adif, together with 7 other partners, from 5 countries, is part of the Corridor (Infrastructure Managers of Spain - Adif, France - SNCF Réseau , Italy - RFI, Slovenia -ASZ, Hungary - MAV, Croatia - HZ Infrastruktura, Figueras Perpignan Line, and Hungarian capacity allocator - VPE). The Mediterranean Corridor one-stop-shop is located in Milan, Italy.

The Mediterranean Corridor, which connects at different points to 6 other European Freight Corridors (1, 2, 3, 4, 5 and 7), runs along more than 7,000 kilometres of the route Almeria - Valencia / Algeciras / Madrid - Zaragoza / Barcelona - Marseille - Lyon - Turin - Milan - Verona - Padova / Venice - Trieste / Koper - Ljubljana/Rijeka - Zagreb - Budapest - Zahony (Hungarian-Ukrainian border).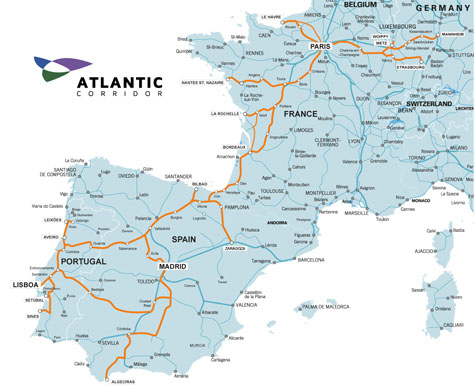 ADIF and the Infrastructure Managers of Portugal (IP), France (SNCF Réseau) and Germany (DB Netz AG) make up this corridor, the one-stop shop for which is located in Madrid.
The Atlantic Corridor, formerly known as Rail Freight Corridor No. 4, comprises some 6,200 km of track along the Sines/Setubal/Lisbon/Aveiro/Leixões - Algeciras/Madrid/Bilbao/Zaragoza - Bourdeaux/ La Rochelle / Nantes / Paris/Le Havre/ Strasbourg - Mannheim axes.
The Atlantic Corridor incorporates 15 ports and 34 terminals, as well as connecting at different points with 3 other corridors (RFC1 Rhine-Alpine, RFC2 North Sea-Mediterranean and RFC6 Mediterranean).